Kaydon markets
Mining
In punishing operating environments like mining, heavy equipment must take a beating and come back for more. Kaydon slewing bearings and SKF Cooper split-to-the-shaft roller bearings have been helping mining owner/operators minimize downtime and maximize productivity for decades. Kaydon and Cooper, both SKF Group brands, are leading global manufacturers of bearings that increase profitability in surface and underground mining operations around the world.
Kaydon slewing bearings for mining equipment
With outer diameters of up to 282" (7.2 m), Kaydon slewing bearings are ideal for shovels, excavators, stacker reclaimers, and other large mining machinery.
Kaydon remanufactures and provides new replacements for any OEM's bearing, with fast delivery and as-new or better performance. Mine operators have found they can save up to $250,000 compared to an OEM replacement bearing.

New and refurbished bearings are readily available from our ISO 9001:2008 certified plants.
Kaydon bearings

Kaydon TR series: three row roller bearings to 240"

Kaydon XT series: four-point contact ball slewing ring bearings to 240"

Kaydon applications

Bagasse bins
Blowers and fans
Bucket wheel excavators
Conveyors/material handling
Cranes
Crushers
Excavators
Longwall miners
Overburden spreaders
Roof bolters
Room and pillar (haulers, scoops, utility vehicles)
Screens
Ship loaders
Shovels
Stacker/reclaimers
Thickeners
Washers
SKF Cooper split spherical roller bearings for mining equipment
The new Cooper split spherical roller bearings are designed to be easily replaced, with little disturbance to the shaft alignment or driveline. Benefits include:

Reduced mean time to repair (by up to 70%) and minimized production downtime costs
Increased safety and time savings
Longer service life, due to wire-cut inner and outer ring manufacturing technique
Greater contamination protection and reduced grease consumption and maintenance (sealed version)
Interchangeable with competitors' split spherical roller bearings and split block housings
Superior shaft fit and lower running noise and vibration levels compared to competitor products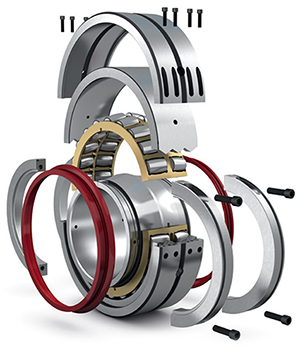 SKF Cooper split roller bearings for mining equipment
SKF Cooper split to the shaft roller bearings can be built around the shaft and replaced without dismantling adjacent equipment or machinery. Benefits include:

Significant reductions in fitting time and downtime
Immense savings in plant maintenance costs, especially with 'trapped' or inaccessible bearings
Ease of maintenance and long life, withstanding the most demanding conditions
Contamination protection in difficult mining environments provided (sealed bearings)
Available in a wide range of sizes (1-3/16" to 60") and a variety of series (from light duty to extra-heavy duty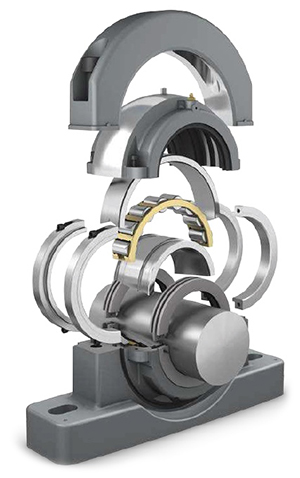 SKF Cooper bearings are manufactured at ISO 9001 and ISO 14001 certified facilities in England. Learn more about Cooper bearings for mining applications and Cooper split spherical roller bearings.

SKF Cooper split-to-the-shaft bearings

Cooper 100 series: compact, high speeds, 3" to 6"
Cooper 01 series: medium duty/loads, a variety of speeds, 1-3/16" to 4-1/8"
Cooper 02 series: heavy duty, wide range of speeds, greater radial and axial capacity
Cooper 03 series: extra-heavy duty, greater capacity, highest load ratings
Cooper 1DT split tapered roller bearing with high thrust capacity

Cooper 231 series: split spherical roller bearings for trapped-position replacement

SKF Cooper applications

Ball mills
Blowers, fans and ventilators
Conveyors/material handling
Crushers
Gearboxes
Generators
Haulage gear
Motors
Screening, sizing, and washing
Screens
Stacker/reclaimers
Stockpile and surgepile management
Trommels
Vibrating screens
Washers
Winders


Log in to access 3D models,
CAD files, and engineering software

Forgot password? | Register